MedSculp
Innovation + Design for Healthcare and the Medical Humanities
Visualizing
Public Health Data

UX Research, Creative Direction, Consultancy
The Kennedy Center
Kennedy Center Installation
Commission of a largescale interactive public health data visualization of life expectancy disparities in DC and across the US to engage the public on social justice issues.
Challenge

Although disparities in health are clear to experts working in health and statistics, the challenge is to translate their impact into a form that can be understood by non-expert publics
Creative Director, UX Researcher, Researcher, Consultancy
Over 6 months I was the creative director for the project leading a team of one front end-developer/technologist in the acquisition of data, UI design, for the large-scale installation at the Kennedy Center. I worked with the event director and manager to translate the idea into a format technically and conceptually suited for the Kennedy Center. Justus built a relationship with Hartford Technology rental for in-kind donations and coordinated offsite and onsite testing of the equipment for the installation.

Results
The installation was the centerpiece for the Kennedy Center Arts Summit conference meeting and community area and was visited by over 100 people. The technology, which included real-time augmented reality camera feed and data set integration, worked as planned because of our rigorous prototypes and testing. The interface we developed can be customized to other data sets to shorten development from 6 months to 3 weeks. The transformation of life expectancy health statistics was presented in multiple forms graphically and interactively for the highest accessibility.
Featured Installation
at the Kennedy Center Arts Summit
1
new application for AR technology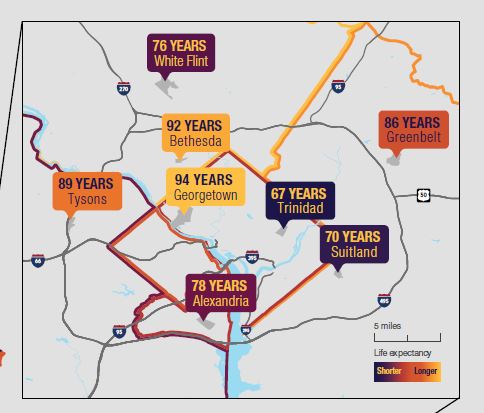 Literature Review
Life expectancy is decreasing in the US.

There is an 18-year life expectancy difference among neighborhoods in DC.

Geographic areas smaller than cities often have lower, overlooked short life expectancies.

Varying methodologies for life expectancy and mortality make it difficult to compare health statistics.

Life expectancy and levels of health insurance are not closely related.
Application
The development of the interactive data visualization started with first determining what data sets could be compared. We initially were going to compare life expectancies among varying geographies, health insurance levels as well as different chronic diseases such as diabetes. Through research, some of our assumptions were proven to be incorrect around the connection between insurance levels and life expectancy. We also realized that data sets such as life expectancy or mortality could not be compared if their methodologies were different. This led us to focus on high fidelity life expectancy data within neighborhoods in DC and across the US over the last 100 years.
Didactic Content Developed
The large-scale infographic below as produced by Justus to synthesize the research for the installation and its context win Washington D.C. accompanied the AR installation.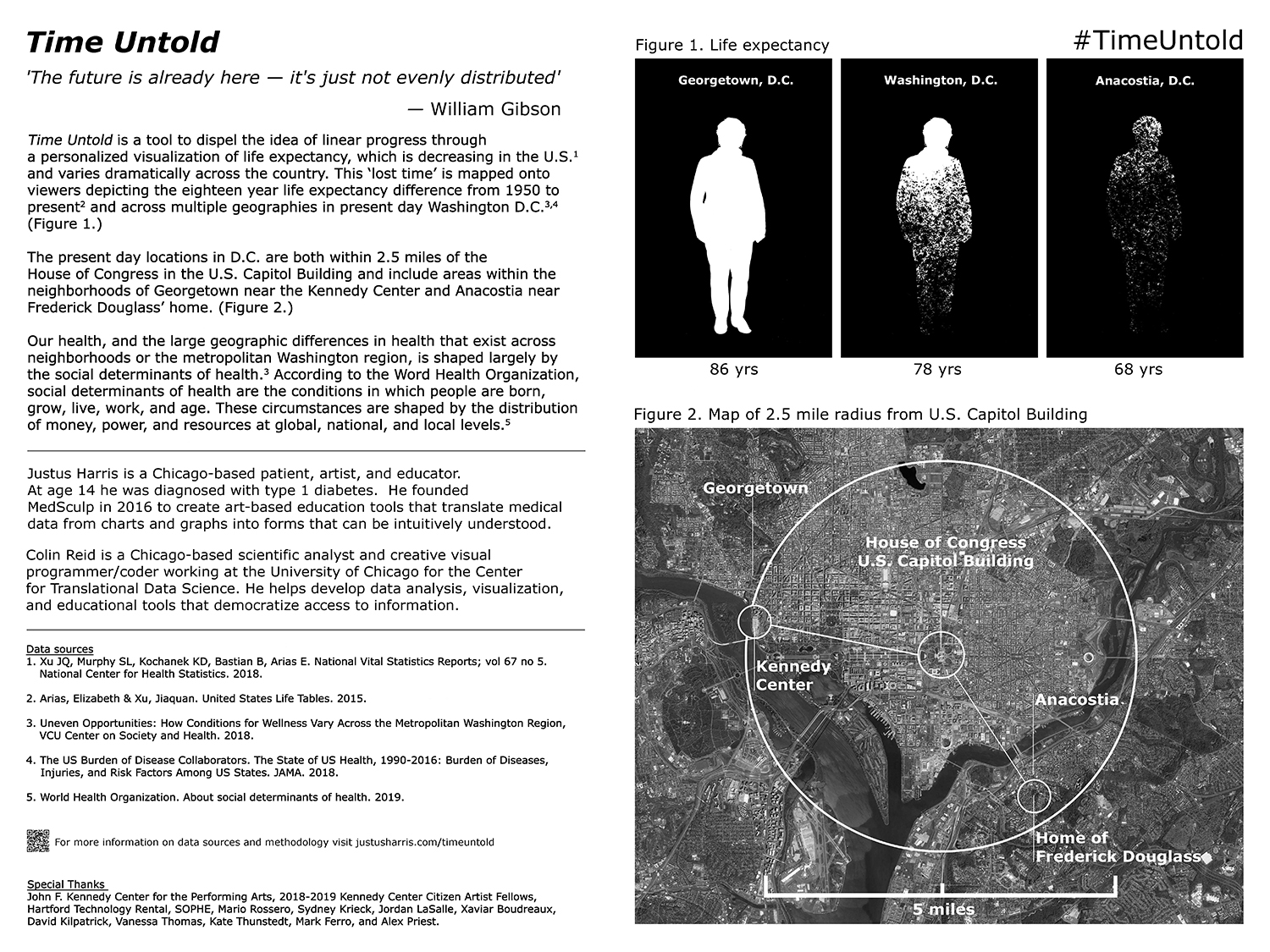 Reflecting Forward
Because of this project, we realized the importance of prototyping to test timing and the impact of visual effects that cannot be simulated with still images. Our prototypes led us to change the types of technology we were using, ultimately, we went with a program used in film and animation called Touch Designer.
We also realized through the feedback of audience members that for those who were not from the DC area they would like an even more customized visualization to show their hometowns. This has led us to develop several plans for a version of the project that can be customized by location and also partner with local social action groups working on health-related topics.

Special Thanks
Colin Reid for collaboration on Time Untold
The Kennedy Center, Sydney, Vanessa, Mario, Jordan, Rulan, Omar, Donney, Alex
Mark Ferro and Hartford Technology Rental